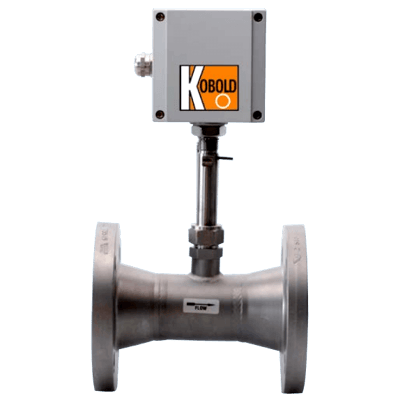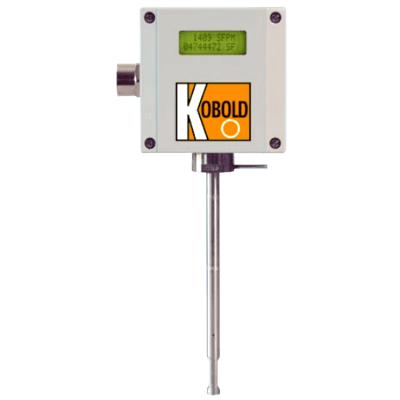 Images are representations only.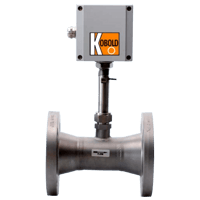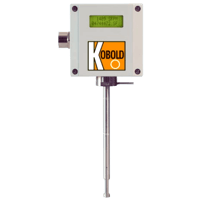 The KOBOLD KES type series thermal mass flow meters measure the flow of gases, independent of variations in process pressure and temperature.

The flow meters are available in different versions for pipe nominal sizes from 1/4" to DN 200, pressures up to 16 bar and gas temperatures up to 175° C.

The KES probe consists of 2 sensors: a temperature sensor for sensing gas temperature, and a sensor for measuring flow velocity. This sensor element is heated by the control electronics to a constant temperature difference with respect to the medium temperature.
Specifications
Accuracy
+0.5 % of Reading, at (0° to 50° C [32° to 122° F] & bar: 0.3 to 2)
± 1 % of Full Scale
Ambient Temperature Range
0° to 50° C (32° to 122° F)
Approvals & Certifications
Communication
RS-232 with Modbus Communication Protocol
Flange Size - 1" (DN 25)
1" (DN 25) - 150# ANSI
1" (DN 25) - PN 16
Flange Size - 1/2" (DN 15)
Flange Size - 1-1/2" (DN 40)
1-1/2" (DN 40) - 150# ANSI
1-1/2" (DN 40) - PN 16
Flange Size - 2" (DN 50)
2" (DN 50) - 150# ANSI
2" (DN 50) - PN 16
Flange Size - 3" (DN 80)
3" (DN 80) - 150# ANSI
3" (DN 80) - PN 16
Flange Size - 3/4" (DN 20)
Flange Size - 4" (DN 100)
4" (DN 100) - 150# ANSI
4" (DN 100) - PN 16
Flange Size - 6" (DN 150)
6" (DN 150) - 150# ANSI
6" (DN 150) - PN 16
Flange Size - 8" (DN 200)
8" (DN 200) - 150# ANSI
8" (DN 200) - PN 16
Function
Counter - 7 to 8-Digit, with Reset
Indication
LCD Display - 2 × 12-Digit LCD, Backlight
Insertion 'U' Length
152 to 914 mm - Industrial Version
95 to 330 mm - Standard Version
Maximum System Pressure
psi: 116 (kPa: 800, bar: 8)
Media
All Typicals of Non-Aggressive Gases
Nominal Pressure
psi: 232.1 (bar: 16, kPa: 1,600)
NPT Connection
1" NPT Male
1/2" NPT Male
1/4" NPT Female
1-1/2" NPT Male
2" NPT Male
3" NPT Male
3/4" NPT Male
4" NPT Male
6" NPT Male
8" NPT Male
Output
0-5 Vdc, 1,000 ohms Minimum
4-20 mA, 700 ohms, Maximum
Pipe Connection
1" Pipe (DN 25)
1/2" Pipe (DN 15)
1/4" Pipe (DN 8)
1-1/2" Pipe (DN 40)
2" Pipe (DN 50)
3" Pipe (DN 80)
3/4" Pipe (DN 20)
4" Pipe (DN 100)
6" Pipe (DN 150)
8" Pipe (DN 200)
Power Requirement
18-30 Vdc
625 mA - Maximum
Process Temperature
-10° to 175° C (14° to 347° F) - Industrial Version
-10° to 80° C (14° to 176° F) - Standard Version
Response Time
1 second (Up to Indication of 63 % of the Real Flow Rate)
200 milliseconds - up to Indication of 63 % of the Real Flow Rate
Sensor / Probe Material
316L Stainless Steel - Wetted Material
Temperature Effect
± 0.04 % of Reading/°C within ± 25° C of Calibration Value
± 0.06 % of Reading/°C between ± 25° to ± 50° C of Calibration Value
Wetted Materials
316L Stainless Steel, 1.4435