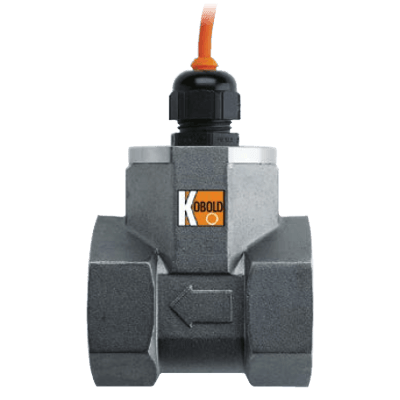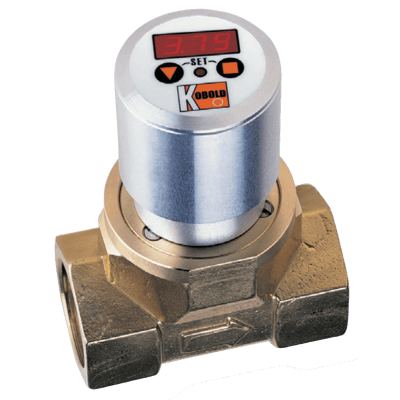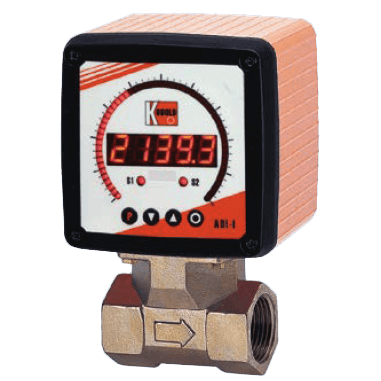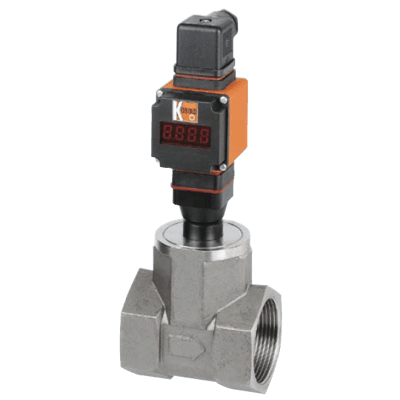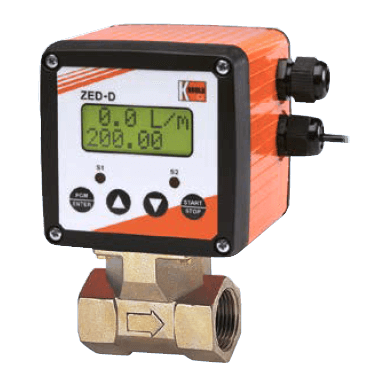 Images are representations only.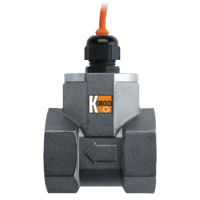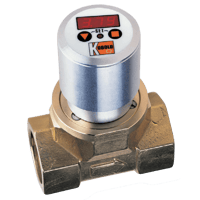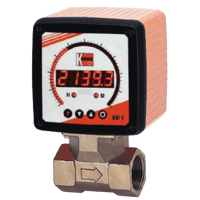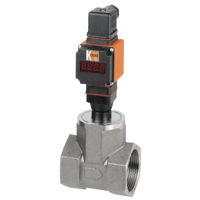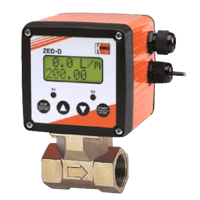 The KOBOLD flowmeter model DRB is used for measuring and monitoring liquids. The device works according the well-known blade wheel principle.

The four vane blade wheel is retained radially in a high quality sapphire bearing.

The sensor is supplied ready-to-install with pipe fittings or with weld-on sleeves. The blade wheel is set in motion by the flowing medium.

Magnets are embedded hermetically sealed in the ends of the blade wheels. The magnets generate electrical pulses in a Hall-effect sensor mounted outside the flow area. Various electronics units can be used to display and monitor the volumetric flow.
Specifications
Adjustment
2 Buttons - Settings
4 Buttons - Settings
Ambient Temperature Range
Applications
Chemical Industry
Cooling Water Monitoring
General Mechanical Engineering
Heavy Goods Industry
Wastewater Treatment
Axle Material
Ceramic (DRB-1300)
HardMetal (DRB-11 & DRB-12)
Bearing Material
Ceramic (DRB-11 & DRB-12)
Ceramic / PEEK (DRB-1300)
BSP Connection
G 1" Female
G 1/2" Female
G 1-1/2" Female
G 2" Female
G 3" Female
G 3/4" Female
Consumption
10 mA - Power Consumption
15 mA - Power Consumption
170 mA - Maximum
Display
2 × 8-Digit LCD Display
240° Display - Moving Coil Instruments
3-Digit LED Display
5-Digits Digital Display
Bar Graph
Electrical Connectors
Changeover Contact - Switching Output
DIN 43650
Plug Connector M12×1
Pluggable Terminal Block Via Cable Gland
Electrical Contacts
Normally Closed
Normally Open
Enclosure, Body Material
304 Stainless Steel (DRB-W)
316Nb Stainless Steel
Brass
Flow Rate
10.59 to 1,589 scfh (5 to 750 L/minute) to Water
Loop Resistance
250 ohms - Maximum
500 ohms - Maximum
Materials of Construction
Maximum System Pressure
psi: 232.1 (bar: 16, kPa: 1,600)
NPT Connection
1" NPT Female
1/2" NPT Female
1-1/2" NPT Female
2" NPT Female
3" NPT Female
3/4" NPT Female
Output
0-10 V
0-20 mA
25 mA - Maximum
250 Vac, Maximum
30 Vdc / 5 A, Maximum
4-20 mA
5 A - 2 Switching Outputs
Relay - Switching OutPut
Relay × 2
Pipe Connection
1" Pipe - DN 25 Nominal Pipe Size
1-1/2" Pipe - DN 40 Nominal Pipe Size
2" Pipe - DN 50 Nominal Pipe Size
3" Pipe - DN 80 Nominal Pipe Size
Seat / Seal Material
FPM: Stainless Steel Version
NBR: Brass Version
Supply Voltage
100 to 240 Vac ± 10 %
10-40 Vdc
12-28 Vdc
18-30 Vac
24 Vdc ± 20 %
Version / Leadwires
3-Wire Technology - Supply