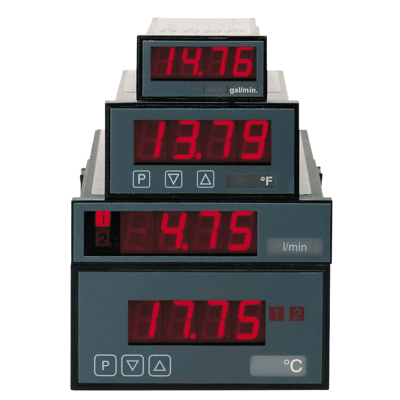 Images are representations only.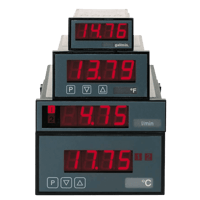 Price competitive and reliable digital indicating units for measurement of temperature, current and voltage. As option the units can be supplied with Analog output and an additional sensor supply.

The units can be delivered with a factory calibration. In case of models with current or voltage input the decimal point and digits before the decimal point can be determined with help of jumpers. The display can be adapted with help of a potentiometer whereas the dimension with replaceable labels.
Specifications
Accuracy
± 0.1 % of Measured Value ± 1-Digit - Current & Voltage
± 0.2° C (± 0.36° F) - Pt 100 (-50° to 199.9° C or -58° to 391.8° F)
± 0.5° C (± 0.9° F) - Pt 100 (-100° to 600° C or -148° to 1112° F)
± 1 % of Measured Value ± 1-Digit - Thermocouples
Dimensions
3.62" × 1.77" (92 × 45 mm) - Cut-Out Dimensions
3.78" × 1.89" × 5.83" (96 × 48 × 148 mm) with Pluggable Option
Display
3 1⁄2-Segment (1999-Digit) - DAG-D
4-1⁄2-Segment (19999-Digit) - DAG-H
7-Segment Red LED, 14 mm High
Input Power
Approximately 2 VA (Pt 100)
Approximately 4 VA (Thermocouples)
Approximately 5 VA (Input Current, Voltage)
Operating Temperature
0° to 60° C (32° to 140° F)
Storage Temperature
-20° to 80° C (-4° to 176° F)