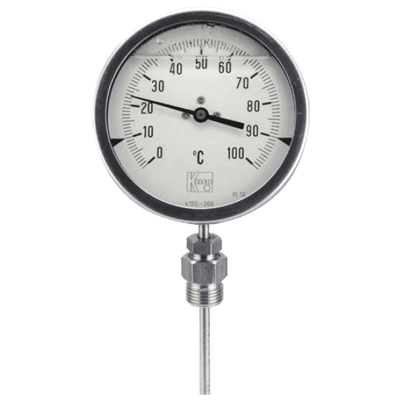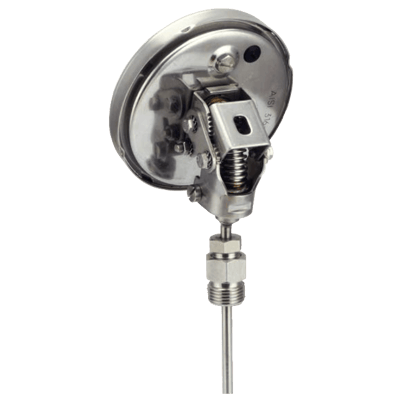 Images are representations only.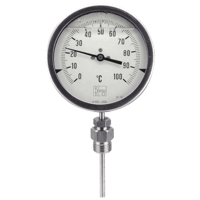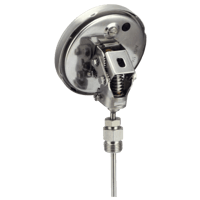 These instruments are designed for use in food, beverage, pharmaceutical, chemical, petrochemical processing industries. They are built to resist the most severe operating conditions created by the ambient environment and the process medium.

An Argon arc welded case/bulb strengthens the whole construction. A leak tight fit is ensured if the instrument is filled with a dampening fluid to prevent damage due to vibration.

The bi-metal thermometers are built from a stainless steel tube inside of which a bi-metal helicoidal spiral is placed. This spiral is welded to the tip of the tube and on the other side to a transmission shaft directly connected to the pointer.

The temperature vibrations generate a deformation of the bi-metal which is transmitted to the pointer through a shaft rotation.
Specifications
Accuracy
Class 1.0 as Per EN 13190
Adjustment
External Zero-Adjustment Screw
Ambient Temperature Range
-25° to 65° C (-13° to 149° F)
Materials of Construction
AISI 304 Stainless Steel TIG - Welding
Aluminum - Pointer & Dial
Process Connection Material
Ring Material
AISI 304 Stainless Steel Bayonet Lock
AISI 316 Stainless Steel
Supply Pressure - Maximum
psi: 217.557 (kPa: 1,500, bar: 15)
Temperature Range
-50° to 600° C (-58° to 1112° F)