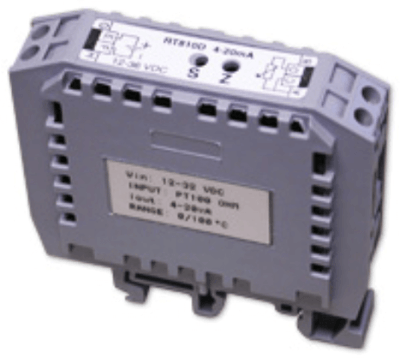 Images are representations only.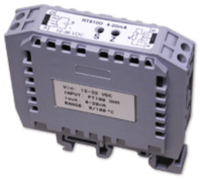 The RT810D Series Analog 2-wire, or loop-powered, temperature transmitters offer the most effective price/performance ratio in the industry.

Factory calibrated for fixed range, they provide a 4-20 mA output linearized to temperature for Pt100.

The wide temperature range and stocked availability make the RT810D an excellent choice for temperature signal transmission.

Precision 20-turn potentiometers allow fine adjustment of ZERO and SPAN. RT810D transmitters are of high quality, very accurate and feature completely linearized output to temperature.

They are DIN rail-mounted conforming to DIN standard 46277 package which is very compact.
Features
High accuracy (±0.1%)
2-wire loop-powered 4-20 mA output
Linearized output to temperature
Input RTD Pt100 with 3-wire compensation
Analog design, potentiometer adjustable
Factory calibrated for fixed range
DIN rail-mounted
Specifications
Accuracy
± 0.1 % of Full Scale (Includes Effects of Linearity, Hysteresis & Repeatability)
Current
Excitation Current RTD: 0.8 mA
Operating Temperature
-40° to 80° C (-40° to 176° F)
Output
4-20 mA Loop Powered, Linear to Temperature
Power Supply
12-32 Vdc, Polarity Protected
Resistance
Sensor Lead Resistance RTD: 500 ohms, Maximum
RTD Type
Pt100, 3-Wire, Alpha = 0.00385, DIN EN 60751
Sensor Circuit
Open Circuit Detection: Over-Scale Limit (27 mA)
Open Circuit Detection: Under-Scale Limit (2.2 mA)
Span & Zero Adjustments
20-Turn Potentiometer, ± 10 % for Zero & Span
Stability
Long Term Drift: ± 0.05 % of Full Scale Per Year
Storage Temperature
-40° to 80° C (-40° to 176° F)
Temperature Range
-50° to 800° C (-58° to 1,472° F)
Thermal Drift
Span & Zero: ± 0.01 % of Full Scale/°C