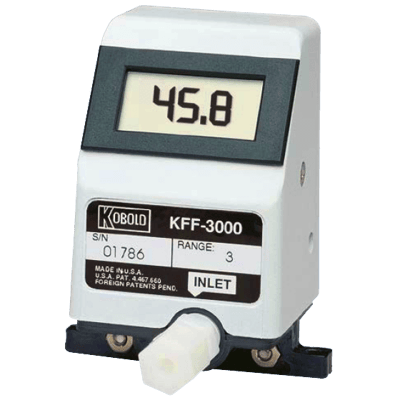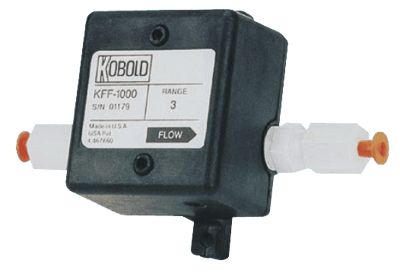 Images are representations only.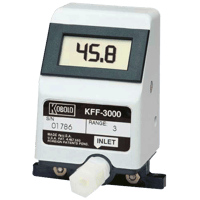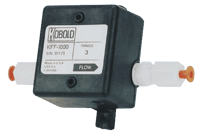 KOBOLD KFF/KFG flow meters are used for measuring low and smaller, volumetric flow rates of gases (KFG) and liquids (KFF). The media must be transmissive for infrared light.

Series KFF/KFG 1000 flow meters are available in Ryton, brass and PTFE materials; therefore suitable for many applications in industry, in laboratories, and so forth.

The new PTFE sensor of the 1000 series is delivered as standard with (0 to 5 Vdc) Analog output and frequency output. The frequency output is optional on other models.

Series KFF/KFG 3000 flow meters are available in Ryton® and in brass. The flow meter is based on the Pelton Principle, that is, the flowing medium causes a vane to rotate.

The rotary motion is converted to electrical impulses by means of photodiodes. The flow rate is output as a frequency signal or a linear Analog (0 to 5 Vdc).
Specifications
Applications
Flow
Industrial Service
Laboratories
Liquid Service
Bearing Material
316 Stainless Steel - Bearing Shell
PTFE - Bearing Shell
Sapphire
Consumption
50 mA (Typically) - Current Consumption
Enclosure, Body Material
Brass
Glass 40 %
PTFE
Ryton 60 %
Flow Rate
Air: 211.89 to 1,059.44 scfh (100 to 500 L/minute)
Liquid: 2.12 to 1,059.44 scfh (1 to 500 L/minute)
Water: 2.12 to 21.19 scfh (1 to 10 L/minute)
Materials of Construction
Glass 40 % - Turbine
PTFE - Turbine
Ryton 60 % - Turbine
Maximum System Pressure
psi: 508 (kPa: 3,500, bar: 35)
Output
0 to 5 Vdc & Frequency Output - PTFE Version (KFF-1 Only)
0 to 5 Vdc & Frequency Output - PTFE Version (KFF-1, KFF-3)
0-5 Vdc
Repeatability
± 0.2 % of Full Scale - KFF
± 1 % of Full Scale - KFG
Supply Voltage
12.5 Vdc ± 1 Vdc - PTFE Version
12.5 Vdc ± 2 Vdc
Temperature Range
0° to 50° C (32° to 120° F)
Tube Connection
1/4" Compression Fitting
1/8" Compression Fitting
3/8" Compression Fitting