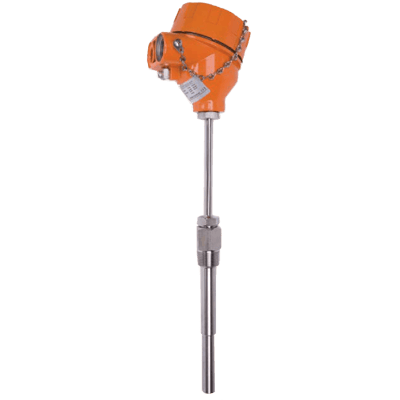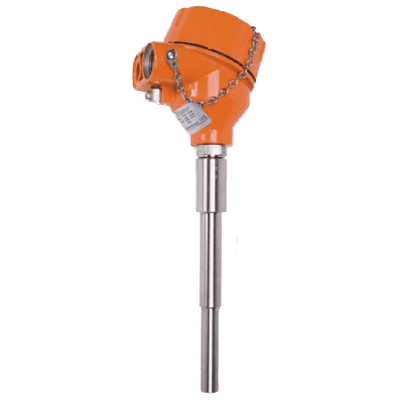 Images are representations only.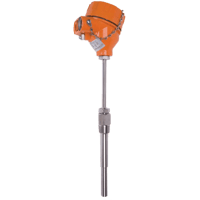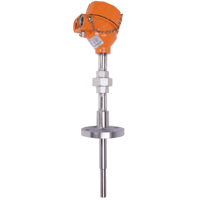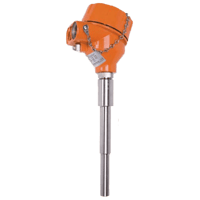 The KOBOLD resistance thermometers comprise a rugged installation fitting made of stainless steel with thread, flange or weld-on connection, a connection head out of aluminium casting and a removable measuring element.

The measuring insert can be replaced without emptying the installation, since the customized thermowell remains in the installation and seals the process.

The instruments are supplied with the ignition protection Exd as a standard and therefore can be installed in relevant hazardous areas. A Pt100 temperature sensor according to IEC 751, category A or B is fitted in the measuring insert as standard.

Depending on customer request the temperature sensor can be carried out as 2-, 3- or 4-wire circuit.

Alternatively these sensors can be designed as single or double resistance thermometers.

Exceptional the 4-wire version, which can only be build with one Pt100 due to lack of space. As an option the resistance thermometers can be supplied with a head transmitter.

Transmitter with a standard 4-20 mA signal, with HART ® protocol or with PROFIBUS ® /Fieldbus ® are there to choose from.

Beside the available resistance thermometers according to DIN-standard, there are customized versions relating to the immersion length, the connection head, the materials, the process connection or the tolerance classes deliverable on request.
Specifications
Ambient Temperature Range
-20° to 70° C (-4° to 158° F) - with LCD Display
-20° to 80° C (-4° to 176° F) - with LED Display
-40° to 150° C (-40° to 302° F) - with Ceramic Terminal Base & without Transmitter
-40° to 85° C (-40° to 185° F) - with Transmitter
Applications
Air Conditioning Systems
Apparatus Construction
Cooling Circuits
Furnace Draft
Heating Equipment
Industrial Service
Mechanical Engineering
Approvals & Certifications
ATEX Ex II 2 GD Ex d IIC T6
ATEX-II 2 GD Ex d IIC T6
BSP Connection
G 1" Male
G 1/2" Male
G 3/4" Male
Flange Size - 1" (DN 25)
1" (DN 25) - PN 100
1" (DN 25) - PN 16
1" (DN 25) - PN 40
1" (DN 25) - PN 6
Flange Size - 1/2" (DN 15)
1/2" (DN 15) - PN 16
1/2" (DN 15) - PN 40
1/2" (DN 15) - PN 6
Flange Size - 1-1/2" (DN 40)
1-1/2" (DN 40) - PN 100
1-1/2" (DN 40) - PN 16
1-1/2" (DN 40) - PN 40
1-1/2" (DN 40) - PN 6
Flange Size - 1-1/4" (DN 32)
1-1/4" (DN 32) - PN 100
1-1/4" (DN 32) - PN 16
1-1/4" (DN 32) - PN 40
1-1/4" (DN 32) - PN 6
Flange Size - 2" (DN 50)
2" (DN 50) - PN 100
2" (DN 50) - PN 16
2" (DN 50) - PN 40
2" (DN 50) - PN 6
Flange Size - 3/4" (DN 20)
3/4" (DN 20) - PN 100
3/4" (DN 20) - PN 16
3/4" (DN 20) - PN 40
3/4" (DN 20) - PN 6
Length
16.4 feet (5,000 mm) - Thermowell Length
3.28 feet (1,000 mm) - Thermowell Length
9.84 feet (3,000 mm) - Thermowell Length
Materials of Construction
316L Stainless Steel, 1.4401 - Neckpipe, Thermowell
Ceramic - Terminal Base
NPT Connection
1" NPT Male
1/2" NPT Male
3/4" NPT Male
Operating Pressure
psi: 3,626 (kPa: 25,000, bar: 250)
Sensor / Probe Connection
Sensor / Probe Material
316L Stainless Steel, 1.4401
Temperature Range
-80° to 600° C (-112° to 1,112° F)
Voltage Drop
LCD: 2.5 V, Maximum
LED: 3.3 V at 4 mA
LED: 3.7 V at 20 mA