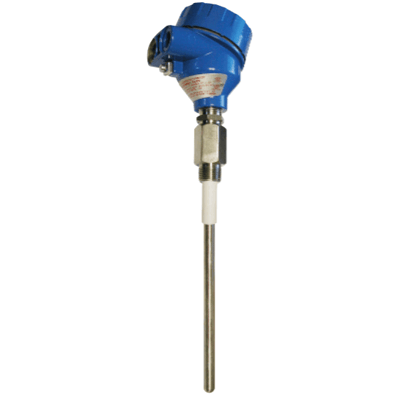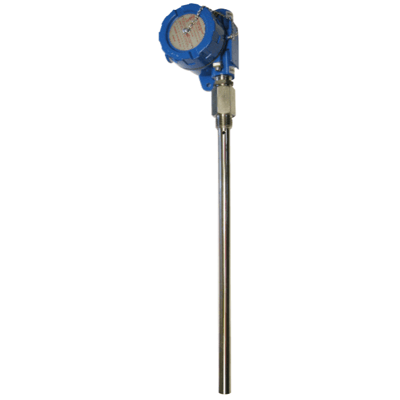 Images are representations only.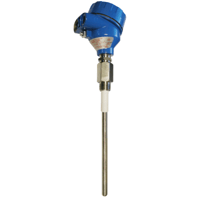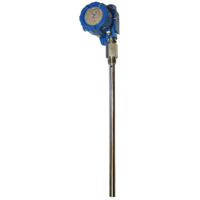 Intempco LTX20 Series two-wire RF level transmitter provides highly reliable, low cost level indication and control that is suitable for all liquid level applications that do not leave a severe build-up on the sensing element.

LTX20 transmitter measures the change in capacitance that occurs as the tank level changes, and outputs a standard loop-powered 4-20 mA signal.

It uses a very high frequency, very low amplitude sensing circuitry to greatly minimize the effects of coating on the sensing probe.

LTX20 is available as an integrally mounted package. A number of level sensing probes can be selected based on the application including bare stainless steel probe, rigid Teflon coated probe and rigid concentric.

Available housings are aluminum and stainless steel NEMA 4X.
Features
Explosion proof design
Easy calibration
Consistent accuracy
Reliability
Housings
Mountings and probes
Specifications
Ambient Temperature Range
-40° to 70° C (-40° to 158° F)
Approvals & Certifications
CSA (C,US) - Class I, Division 2, Groups A, B, C, D, Hazardous Locations
UL (C,US) - Class I, Division 2, Groups A, B, C, D, Harzardous Locations
Calibration
Via 4 Push-Button Switches, Non-interactive Zero & Span
Flange Size - 1" (DN 25)
1" (DN 25) - 150# (ANSI B16.9)
1" (DN 25) - 300# (ANSI B16.9)
1" (DN 25) - PN 16
1" (DN 25) - PN 40
Flange Size - 1-1/2" (DN 40)
1-1/2" (DN 40) - 150# (ANSI B16.9)
1-1/2" (DN 40) - 300# (ANSI B16.9)
Flange Size - 2" (DN 50)
2" (DN 50) - 150# (ANSI B16.9)
2" (DN 50) - 300# (ANSI B16.9)
2" (DN 50) - PN 16
2" (DN 50) - PN 40
Flange Size - 2-1/2" (DN 65)
2-1/2" (DN 65) - 150# (ANSI B16.9)
2-1/2" (DN 65) - 300# (ANSI B16.9)
Flange Size - 3" (DN 80)
3" (DN 80) - 150# (ANSI B16.9)
3" (DN 80) - 300# (ANSI B16.9)
3" (DN 80) - PN 16
3" (DN 80) - PN 40
Flange Size - 4" (DN 100)
4" (DN 100) - 150# (ANSI B16.9)
4" (DN 100) - 300# (ANSI B16.9)
4" (DN 100) - PN 16
4" (DN 100) - PN 40
Flange Size - 6" (DN 150)
6" (DN 150) - 150# (ANSI B16.9)
6" (DN 150) - 300# (ANSI B16.9)
6" (DN 150) - PN 16
6" (DN 150) - PN 40
Humidity
10 to 55 % Relative Humidity
Loop Resistance
700 ohms at 24 Vdc, Maximum
NPT Connection
1" NPT Male
1/2" NPT Male
3/4" NPT Male
Power Supply Effect
< 0.1 % of Output at, Maximum
Pressure Range
bar: 1 to 34
kPa: 100 to 3,400
psi: 14.5 to 500
Process Connection Material
316L Stainless Steel
Carbon Steel
Hastelloy C-276
PFA (Non-hazardous)
PTFE (Non-hazardous)
Response Time
2 to 30 seconds with Adjustable Damping Time
Less than 2 to 3 seconds with No Damping Time
Sensor, Probe Diameter
Probe O.D.: 0.75" (19 mm) for Concentric Shield
Probe O.D.: 1/2" (12.7 mm) for General-purpose
Sensor, Probe Material
Probe: 316L Stainless Steel Rod
Probe: Hastelloy C-276 Rod
Probe: PFA Fully Insulated Rod
Probe: PTFE Fully Insulated Rod