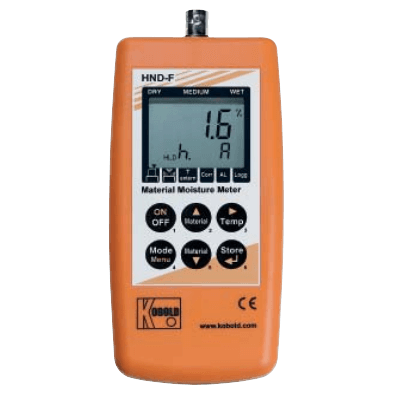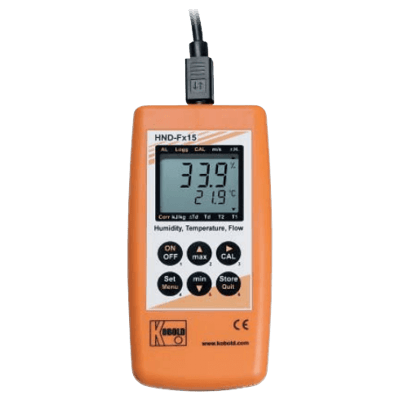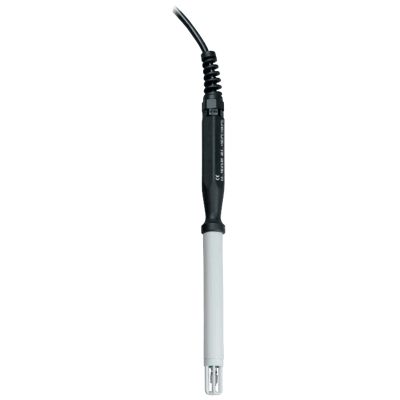 Images are representations only.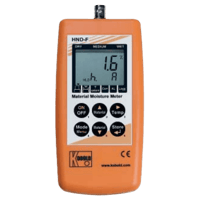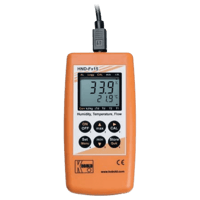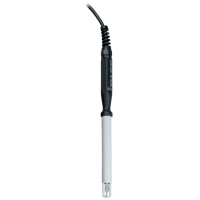 The KOBOLD hand-held measuring units HND-F105/205/110 are a completely new development and offer decisive advantages in handling, user-friendliness, scope of functions, and accuracy during measuring work. The KOLBOLD HND-F115/215 hand-held measuring unit allows for the measurement of gas humidity and gas temperature or the gas or water flow.

Appropriate probes are available for both measuring applications (for more technical data, see subsequent pages.) The housing offers extensive functions, a high degree of accuracy, and decisive advantages in operation in order to support the user in determining the various measured quantities.

In addition to the standard basic functions like minimum/maximum value memory, hold function, dew-point calculation, or a calibration function for humidity measurement, the improved housing design KOBOLD HND-F215 has minimum/maximum alarm, adjustable alarm, a real-time clock, and logger function.
Specifications
Accuracy
± 0.1 % Relative Humidity
± 0.2 % (Weight Moisture & Room Temperature (Pt1000))
± 0.5 % of Reading ± 0.3° C
± 0.5 % of Reading ± 0.5° C - Surface Temperature (NiCr-Ni)
± 1-Digit at Nominal Temperature 25° C (77° F)
Applications
Air Conditioning Systems
Exhaust Ventilation Systems
General Humidity Measurement
Electrical Connectors
6-Pin Shielded Mini DIN Plug - Probe Connection
BNC Connector
DIN EN 13183-2 - Humidity
Enclosure / Body Material
ABS Plastic - Housing Made of Impact-Resistant
Humidity
0 to 100 % Relative Humidity - Weight Moisture
Interface Connection
RS-232 Serial Interface
USB Optional - Output
Operating Temperature
-25° to 50° C (-13° to 122° F) - Permissible
Output
0-1 V - Freely Scalable or Serial Interface
Power Requirement
10.5-12 Vdc - External Via Jack
9 V Monolithic Battery
Sensor / Probe Type
K Thermocouple - Temperature Extern
NTC - Temperature Intern
Storage Temperature
-25° to 70° C (-13° to 158° F)
Temperature Range
-25° to 50° C (-13° to 122° F)
-40° to 200° C (-40° to 392° F)
-80° to 250° C (-112° to 482° F)