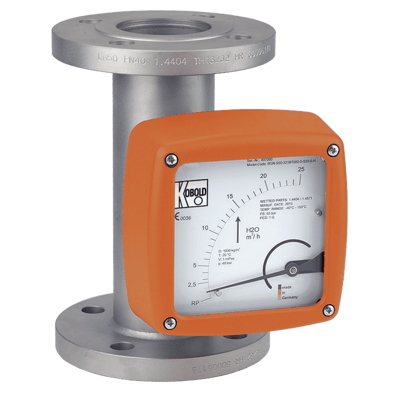 Images are representations only.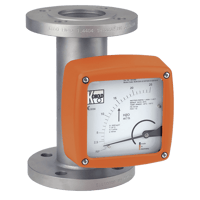 The KOBOLD BGN full metal variable area flowmeter and counter is suitable for flow measurement of liquid or gaseous products in pipes. It shows the current flow rate in volume or mass per unit in time.

Functions

The fluid flows from bottom to top through the meter tube of the flowmeter. The float is lifted until an annular gap between the meter ring and the cone-shaped float is produced which corresponds to the flow.

The forces acting on the float are in equilibrium. The forces that are mainly acting on the float comprise buoyancy according to the principle of Archimedes, the flow force of the medium and the weight force.

Each position of the float corresponds to a flow value measured during calibration, which is transferred to a scale.

The BGN variable area flowmeter consists of a meter tube with connections, a meter ring, and a conical float. By means of a magnet, the position of the float is transferred to an encapsulated follow magnet, which has been fitted to a pointer axle. The position of a second annular follow magnet fitted on the pointer axle is transferred to the scale by means of the pointer.
Features
A Large Spectrum of Wetted Materials
Magneto-Resistive Signal Transmission
Gas or Liquid Damping (Option)
Special Design for High-Pressure and High Temperature Applications
Excellent Heat Tracing Technology (Option)
Double Eddy Current Damping (Special Version)
Self Draining (Special Version)
Backflow Stop (Special Version)
Flow Controller (Special Version)
Specifications
Accuracy
± 1.6 % of Full Scale (BGN-S/H) - Liquid
± 1.8 % of Full Range (BGN-S/H) - Gas
± 2.0 % of Full Scale (BGN-P) - Liquid
± 2.2 % of Full Range (BGN-P) - Gas
Ambient Temperature Range
-40° to 80° C (-40° to 176° F)
Approvals & Certifications
ASME B16.5, ASME Class 150 & ASME Class 150/300
BVS 03-ATEX-H/B 112
CE-Marking - Pressure Equipment Directive 97/23/Eg & 94/9/EG
DMT 00-ATEX-E 075
Ex
Ex II 2 G EEx ia IIC T6
SIL
Configuration
Transmitter - ES with Fieldbus Foundation
Transmitter - ES with HART-Protocol, Protocol & Counter Module, 2 NAMUR-Switches & 1 NAMUR-Switches / 1 Pulse Output
Transmitter - ES with PROFIBUS PA
Flange Size - 1/2" (DN 15)
Flange Size - 1-1/2" (DN 40)
Flange Size - 4" (DN 100)
Flange Size - 5" (DN 125)
Flange Size - 6" (DN 150)
Flow Rate
0.015 to 2,400 Nm³/hour - Air
0.5 to 1,30,000 L/hour - Liquids
Input
Input Binary - Counter Reset
Materials of Construction
316 Stainless Steel - Display
Aluminum (Stove-Enameled) - Display
Nominal Pressure
psi: 580.2 (bar: 40, kPa: 4,000)
Output
Galvanically Isolated
Passive
Output Function
Inductive Switch, SJ 3,5-N NAMUR (Standard)
Inductive Switch, SJ 3,5-SN NAMUR (Safety Design)
Microswitch
Process Temperature
-40° to 350° C (-40° to 662° F)
Sensor, Probe Material
316 Titanium Stainless Steel
316L Stainless Steel
Hastelloy C-22
PTFE
Flow measurement, monitoring, adjusting and control of liquid and gaseous products. 
The meter's design makes it ideal for processes under difficult and rough operating conditions.