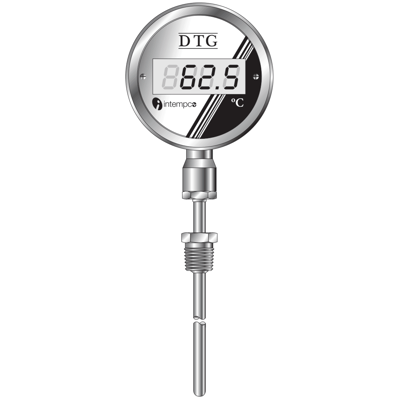 Images are representations only.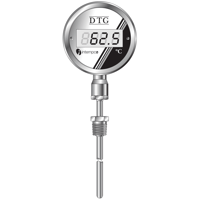 The Model DTG11, Digital Temperature Gauge, is a complete solution for most industrial temperature monitoring and temperature indicating applications.

This gage features a bright and large 4-digit red LED display, optional Analog 4-20 mA output, optional switch output, and an optional RTD output.

Utilizing Intempco's patented MIST technology and the self-calibration feature, DTG is designed for optimum accuracy and performance. The DTG is designed as a direct replacement for bi-metal, liquid bulb and glass thermometers.
Features
Large 4-digit red LED display
Field re-programmable with optional PC interface module and software
Security password and tracking protection for re-programming and re-calibration
Optional 4-20 mA programmable linearized signal output
Optional fully programmable switch output, relay or transistor
Utilizes self-calibration feature for accurate and stable performance
Utilizes Pt-100 Ohm RTD Class A element for temperature sensing
Micro M12 male plug or cable gland for electrical connection
IP65 / NEMA 4 rated environmental protection
All stainless steel 316 construction
Easy installation with various mounting configurations
Specifications
Accuracy
± 0.25 % of Span or Better
Cable Length
Straight, Right Angle: 16.40 feet (5 metres)
Straight, Right Angle: 6.56 feet (2 metres)
Cable Material
Polyolefin Shrink
PVC Insulation 90° C (195° F) - Maximum
Silicone
Teflon Insulation 200° C (392° F), with Stainless Steel Armour & Polyolefin Shrink 90° C (195° F), Teflon Shrink 200° C (392° F) - Maximum
Electrical Connectors
Cable
M12 Micro-Male Connector
Materials of Construction
Ferrule Material: Stainless Steel
Ferrule Material: Teflon
Fitting & Ferrule Material: Brass
Fitting Material: 316 Stainless Steel
Stainless Steel Amor
Mounting
Back Mounting
Bottom Mounting
Side Mounting
Top Mounting
NPT Connection
1/2" NPT Male
1/4" NPT Male
1/8" NPT Male
3/4" NPT Male
3/8" NPT Male
Sensor, Probe Diameter
Probe (Sheath O.D.): 1/4 to 5/8" (6.4 to 15.9 mm)
Probe (Tip O.D.): 1/8 to 1/4" (3.175 to 6.35 mm)
Probe: 1/4 to 1/2" (6.4 to 12.7 mm)
Sensor, Probe Material
Probe: 316 Stainless Steel
Probe: 316L Stainless Steel
Switch Type
Relay SPDT, 0.5 A at 240 Vac
Transistor (NPN: 100 mA - Maximum
Switching Range
-200° to 600° C (-328° to 1,112° F)
Temperature Range
-200° to 600° C (-328° to 1,112° F)
Replacement for Bi-Metal, Liquid Bulb and Glass Thermometers
Pharmaceutical
Food Preparation
Utilities and Municipal
Refineries
Chemical and Petrochemical Plants
Paper Mills
Hydraulics