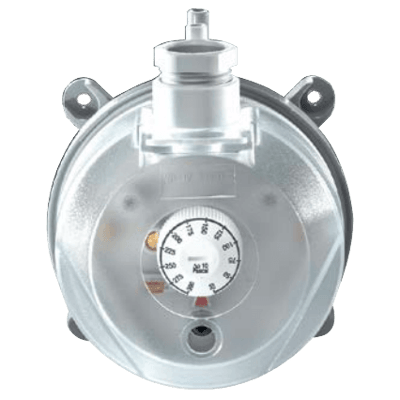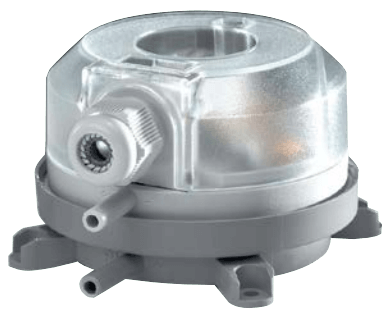 Images are representations only.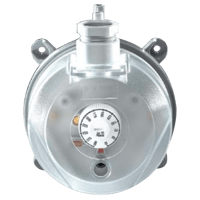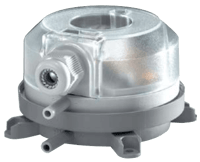 Adjustable differential pressure switch for monitoring overpressure, vacuum and differential pressure of air or other non-combustible, non-aggressive gases.

With this pressure switch the switching pressure can be adjusted without a pressure gauge using a scaled adjustment knob. The switching differential can also be adjusted with a screwdriver.

Switching pressure specifications apply to vertical installation which is also the recommended position with pressure-pipe connections pointing downwards. If the switches are installed horizontally with AMP connection terminals uppermost, the switching values are approximately 20 Pa higher.
Specifications
Ambient Temperature Range
20° to 70° C (-4° to 158° F) (Limited from 85° to 70° C Due to PVC-Hose)
Diaphragm Material
Silicone, Tempered at 200° C (392° F) Getempert
Electrical Connectors
AMP Flat Plug 6.3 × 0.8 mm According to DIN 46244
Cable Conduit with Cable Strain Relief
Push-On Screw Terminal
Enclosure / Body Material
Maximum System Pressure
psi: 1.45 (kPa: 10, bar: 0.1)
Process Temperature
-20° to 70° C (-4° to 158° F)
Set Point - Decreasing
Inches WC: 0.08 to 4.015
mbar: 0.2 to 10
mm Hg: 1.5 to 7.5
Set Point - Increasing
Inches WC: 0.08 to 4.015
mbar: 0.2 to 10
mm Hg: 1.5 to 7.5
Storage Temperature
-40° to 70° C (-40° to 158° F) (Limited from 85° to 70° C Due to PVC-Hose)
Switch Type
1 or 2 Normally Closed or Normally Open
System Pressure
bar: 0 to 0.1
kPa: 0 to 10
psi: 0 to 1.45
Monitoring air filters and ventilators
Monitoring industrial cooling-air circuits
Overheating protection for fan heaters
Monitoring flows in ventilation ducts
Controlling air and fire-protection flaps
Frost protection for heat exchangers