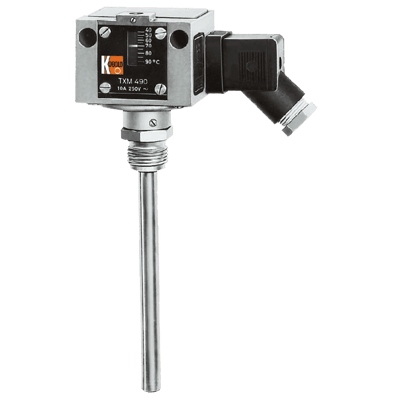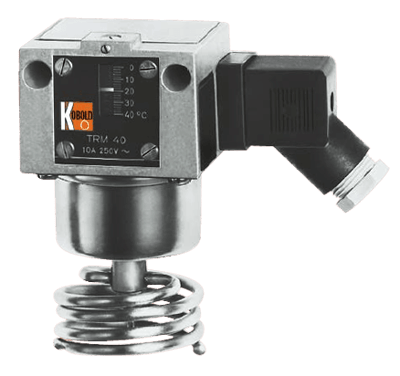 Images are representations only.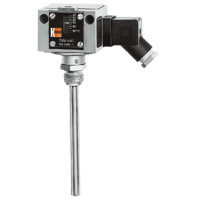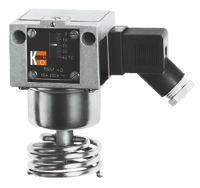 KOBOLD room thermostats are suitable for industrial plant, for greenhouses, cowsheds and warehouses, also for monitoring the maximum temperature in switchgear cabinets and relay stations. Room thermostats are supplied with TER-H 1 wall bracket.

The KOBOLD rod thermostats can be installed as immersion thermostats in pipelines and containers and for monitoring temperature in air ducts. The suitable immersion tube has to be chosen according to the application.

The sensor cartridge at the end of the capillary tube is the actual active (temperature-sensitive) part of the sensor. Changes in temperature on the capillary tube have no effect on the switching point.

Pressure-tight installation of the sensor in pressure vessels of all kinds is possible with the aid of immersion tubes.
Specifications
Ambient Temperature Range
-15° to 70° C (5° to 158° F)
Approvals & Certifications
Electrical Connectors
Cable Entry Pg 11, Maximum
Cable Outlet Possible in 4 Directions - Spaced 90° Apart
Plug Connection According to DIN EN 175 301
Terminal Connection
Enclosure / Body Material
Aluminum Die Cast GD Al Si 12 to DIN1725, Resistant to Ammonian Steam & Seawater
Environmental Protection
IP65 Nach DIN EN 60529 (In the Case of Vertical Mounting)
IP54 to DIN EN 40050 & IP54 Nach DIN EN 60529
Length
135-220 mm - Immersion Depth
Mounting Position
Arbitrary
Housing on Top
Preferably Vertical
Power Requirement
0.03 A at 250 Vdc
2 A at 250 Vac Inductive
2 mA, 24 Vdc Minimum
3 A at 250 Vac
3 A at 24 Vdc
5 A at 250 Vac Inductive
8 A at 24 Vdc
8 A at 250 Vac
Pressure Range
psi: 362.6 to 913.7 (2,500 to 6,300, bar: 25 to 63)
Switch Points
Adjustable on the Spindle after the Terminal Box Lid is Removed
Switch Type
Single-Pole Change-Over Switch
Temperature Range
-20° to 130° C (-4° to 265° F)
70° C (158° F) - Maximum