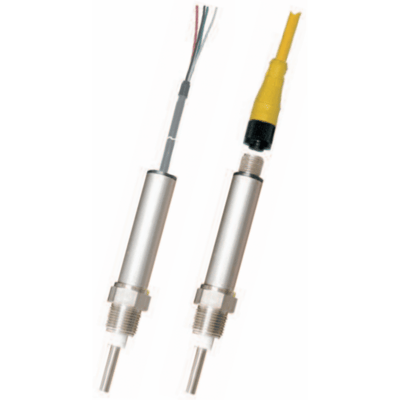 Images are representations only.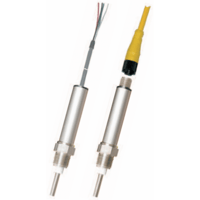 The LSC52 is truly a high quality sensor, which can be used in harsh environments, for liquid level limit detection in metallic and non-metallic tanks containing electrically conductive or non-conductive liquids.

The probe, fitting and housing are constructed of stainless 316, the isolator is Teflon.

The LSC52 sensors feature built-in protection against reverse polarity, overvoltage and electrical shielding to deliver long-term reliability.

The output is relay SPDT which can be configured as either NO or NC or both NO and NC.
Features
All stainless steel 316 construction, Teflon® isolator
Probe bare stainless steel or PFA Teflon clad
Integral electronic switching, relay output
Set-point calibration via one wire
Built-in slosh dampening
Hermetically sealed, vibration resistant construction
Operates on RF capacitance principle
For conductive and non-conductive liquids
Minimum or maximum limit detection
Specifications
Ambient Temperature Range
-40° to 85° C (-40° to 185° F)
Cable Length
Extension: 6.5 to 16.4 feet (2 to 5 metres)
Extension: Maximum
Consumption
Power: 120 mW, Maximum
Power: 50 mA at 24 Vdc
Electrical Connectors
Electrical Termination: Lead Wires 22 AWG
M12 Micro-Connector (5 & 8-Pin Male)
Electrical Contacts
Normally Closed
Normally Open
Load
Load Capability: 0.3 A at 110 Vac, Maximum
Load Capability: 1 A at 30 Vdc, Maximum
Materials of Construction
Extension: PVC Insulation, 90° C (195° F) - Maximum
Extension: Teflon, 200° C (392° F) - Maximum
Fitting: 316 Stainless Steel
NPT Connection
1/2" NPT Male
1/4" NPT Male
1/8" NPT Male
3/8" NPT Male
Output
Probe: 1 mA - Maximum
Probe: 1 Vac, Maximum
Pressure Range
psi: 0 to 100 (kPa: 0 to 690, bar: 0 to 6.9)
Process Temperature
100° C (212° F) - Maximum
Sensor, Probe Length
Probe: 1 to 36" (25.4 to 914.4 mm)
Sensor, Probe Material
Probe: Bare 316 Stainless Steel
Probe: PFA Teflon Jacketed
Wetted Materials
316 Stainless Steel
PFA Teflon
Limit Detection for all Type of Liquids
Use Teflon® Clad Probe for Conductive Liquids
Use Bare SS Probe for Clean Non-Clogging Oils and Fuels
For Side Mount and Bottom Mount Tank Applications
Leak Detection
Coolant Level Monitoring