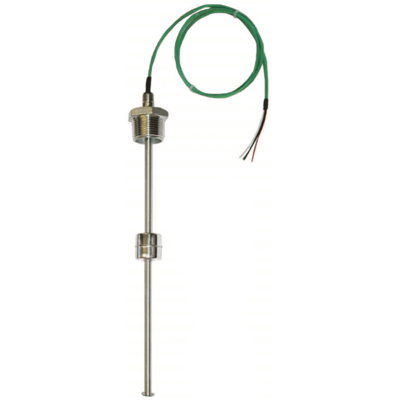 Images are representations only.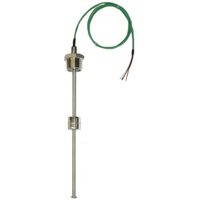 The LFT50 is a miniature float level transducer suitable for level measurement in vessels of up to 36" (914 mm) in height.

Of high quality construction, all wetted parts are stainless 316; other materials are available upon request.

The use of 1" or 1-1/4" NPT fitting accommodates the diameter of the float and allows the units to be installed from the top of the vessel without removal of the float.

For fittings 1/4", 1/2" and 3/4" NPT, the float has to be removed. Upward mounting fittings are also available. Each transducer comes standard with a cable or a 5-pin M12 Micro-DC plug.

The transmitted level signal is generated via a DIN rail transmitter, mounted remotely. Reliable operation and simple design makes the LFT50 an excellent choice for many level sensing applications.
Features
Miniature design, ideal for OEM applications
NPT fittings standard, others available
Probe lengths to 36" (914 mm)
High Resolution, 1/4" (6.5 mm)
All stainless steel wetted parts
M12 micro-male plug or extension cable available
Continuous level measurement
Analog output via remotely mounted DIN Rail transmitter
Undisturbed by foaming
Vapor insensitive
Liquid interface detection
Specifications
Ambient Temperature Range
DIN Rail Transmitter: -20° to 60° C (-4° to 140° F)
Cable Length
Extension: 15 feet (5 metres) for M12 Micro-Male Connector
Extension: 6 feet (2 metres) for M12 Micro-Male Connector
Cable Material
PVC
Silicone
Teflon with Stainless Steel Armor
Current
DIN Rail Transmitter (Sensing Current): 2.5 mA - Maximum
Electrical Connectors
Cable
M12 Micro-Male Connector (5-Pin)
Enclosure, Body Material
DIN Rail Transmitter: Polycarbonate
Environmental Protection
DIN Rail Transmitter: IP40
DIN Rail Transmitter: NEMA 1
IP10
IP65
IP66
NEMA 4X
Input
DIN Rail Transmitter: 12-32 Vdc, Maximum
Length
Probe Length: 36" (914 mm) - Maximum
NPT Connection
1" NPT Male
1/2" NPT Male
1/4" NPT Male
1-1/4" NPT Male
Output
DIN Rail Transmitter: 0-10 Vdc 3-Wire
DIN Rail Transmitter: 0-5 Vdc 3-Wire
DIN Rail Transmitter: 4-20 mA, 2-Wire
Pressure Range
bar: 0 to 13.79
kPa: 0 to 1,379
psig: 0 to 200
Process Connection Material
316 Stainless Steel
316L Stainless Steel
Resistance
DIN Rail Transmitter (Output): 0 to 5,000 ohms 3-Wire
Sensor, Probe Material
Probe: 316L Stainless Steel
Temperature Range
-20° to 120° C (-4° to 250° F)
Voltage
DIN Rail Transmitter (Sensing Voltage): 5 Vdc, Maximum
Wetted Materials
Float, Fitting: 316 Stainless Steel
Ideal for Level Measurement Where Installation Space is Limited or Tanks are Compact
Water Based Liquids
Acids Compatible with Stainless 316
Hydraulic and Other Clean Oil Applications
Chemical Holding Tanks with Clean Liquids
Measurement of Liquid Levels in Mobile Equipment
Ideal for Many OEM Applications
Not Recommended Where Liquids are Dirty or Sticky