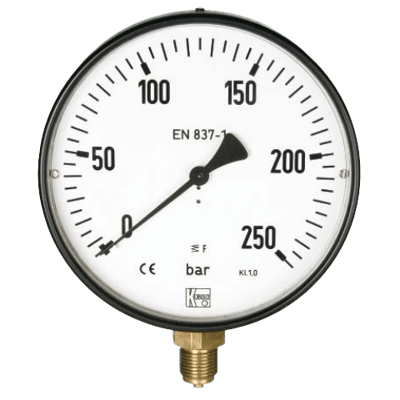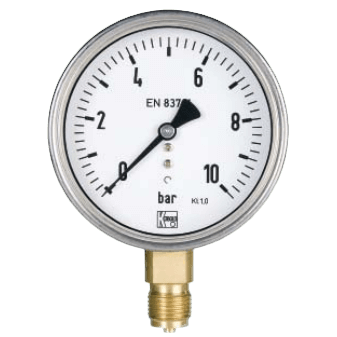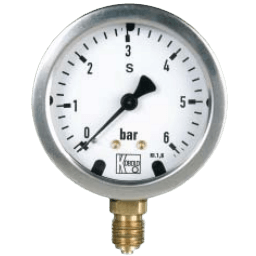 Images are representations only.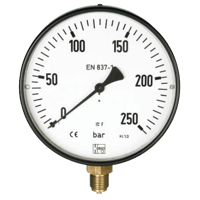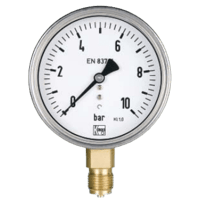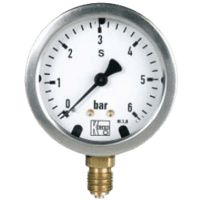 These KOBOLD pressure gauges can be used for all applications where accuracy, repeatability and long-term stability are of special importance. They can be used for liquid or gaseous substances which do not crystallize, are not highly viscous and do not corrode brass.

The extensive range of options allows the user to adapt the instruments to his own special requirements. All the pressure gauges comply with general international guidelines and take account of standard as well as application-specific requirements.

KOBOLD Bourdon tube pressure gauges are the result of over 70 years experience in building pressure gauges.
Specifications
Accuracy
1.0 - Round Housing (NG 63/80, Rectangular Casing)
1.6 - Profile Housing (NG 63/80, Rectangular Casing)
Ambient Temperature Range
-20° to 60° C (-4° to 140° F)
Applications
Compressors
Hydraulic Applications
Infusion Pumps
Mechanical Engineering
Plant Construction
Element
CuSn (From 100 bar Stainless Steel 1.4571) - Measuring Element
Enclosure, Body Material
304 Stainless Steel
Aluminum
Nickel-Plated Steel
Fill Material
Glycerin
Paraffin with Contact
Materials of Construction
Aluminum, Black Anodized - Pointer
Partly Plastic - Pointer
Pressure Range
bar: -0.6 to 1,000
kPa: -60 to 100,000
psi: -8.7 to 14,500
Ring Material
304 Stainless Steel
Light Metal/Steel, Nickel-Plated, Steel Black
Window Material
Instrument Glass
Polycarbonate