Images are representations only.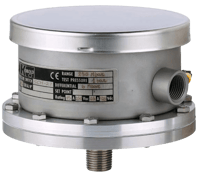 These diaphragm pressure switches are IP 65, and suitable for a variety of applications such as: food industry, cannery, pharmaceutical, petrochemical, conventional and nuclear power station, and they withstand the most unfavorable working conditions, caused by either the process fluid aggressiveness or high ambient temperature.

The sensing element is a metallic diaphragm and acts directly on the microswitch through a self-centering pivot. The simplicity of the design, without levers, cams or similar mechanism, gives the unit an exceptionally long working life.
Specifications
Adjustment Type
Internal, Micrometric Adjustable
Ambient Temperature Range
-25° to 65° C (-13° to 149° F)
Cover Material
304 Stainless Steel, Bayonet Lock
Diaphragm Material
316 Stainless Steel
Carbon Steel Diaphragm Covered with AISI 316 Stainless Steel
PTFE
Electrical Connectors
1 × External - Earth Contact
1 × Internal - Earth Contact
M20×1.5
Terminal Strip
Electrical Rating
0.1 A at 24 Vdc
15 A at 125 Vac
15 A at 250 Vac
20 A at 125 Vac
20 A at 250 Vac
6 A at 24 Vdc
Materials of Construction
AISI 304 Stainless Steel, etched - Tag
Mounting
2" Stake's Mounting Bracket
NPT Connection
1/2" 14 Female NPT
1/2" NPT Male
1/4" 18 Female NPT
1/4" NPT Male
Pressure Range
psi: 58.0151 to 2320.6 (kPa: 400 to 16000, bar: 4 to 160) - Carbon Steel Diaphragm
Up to psi: 36.2594 (kPa: 250, bar: 2.5) - AISI 316 Stainless Steel Diaphragm
Process Connection Material
Process Temperature
100° C (212° F) - Maximum
Switch Type
1 to 2 SPDT Microswitches
Adjustable Differential, Double
Adjustable Differential, Single
Gold-Plated & Insert Gas Filled, Double
Gold-Plated & Insert Gas Filled, Single
Gold-Plated, Double
Gold-Plated, Single
Inert Gas Filled, Double
Inert Gas Filled, Single
Insert Gas Filled Vdc, Double
Insert Gas Filled Vdc, Single
Standard, Double
Standard, Single
System Pressure
bar: 185
kPa: 18,500
psi: 2,683
Thermal Drift
≤ 0.05 %/°C (≤ 0.027 %/°F)