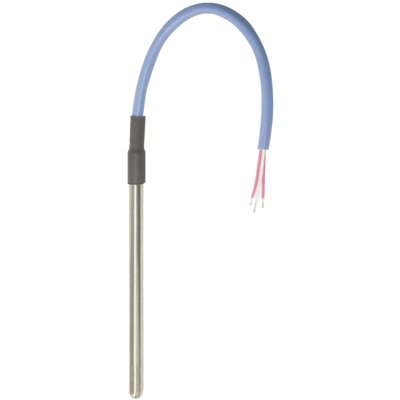 Images are representations only.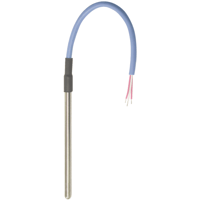 This general-purpose RTD probe is compact, low cost and ideal for OEM applications.

Lead wires transition the sheath without the use of metal transition fitting and are at that point not as durable as on the model R06 probe. PVC or Teflon jacketed lead wires are available.
Features
General purpose RTD probe with PVC or Teflon lead wires
No transition junction between leads and sheath
Adjustable fitting available
Specifications
Approvals & Certifications
Certificate of Compliance
Cable Material
PVC Insulation
Teflon Insulation
Electrical - Free Leads
Stranded 22 AWG, PVC or Teflon Insulation
Insulation Resistance
Dual Element Probes: 100 megaohms Minimum at 100 Vdc between Element & Leads to Case
Single Element Probes: 100 megaohms Minimum at 500 Vdc, Leads to Case
Materials of Construction
Ferrule Material: Brass
Ferrule Material: Stainless Steel
Ferrule Material: Teflon
Sheath: 316 Stainless Steel
NPT Connection
1/2" NPT Male
1/4" NPT Male
1/8" NPT Male
3/4" NPT Male
3/8" NPT Male
Pressure Rating
psi: 500 (kPa: 3,450, bar: 34.5)
Process Connection Material
RTD Type
Pt100 ohm at 0° C, α = 0.00385 IEC 751 & DN 43760
Sensor, Probe Connection
RTD Circuit Typical: 2-Wire (Single/Dual)
RTD Circuit Typical: 3-Wire (Single/Dual)
RTD Circuit Typical: 4-Wire (Single/Dual)
Sensor, Probe Diameter
Probe: 1/8 to 3/8" (3.2 to 9.5 mm)
Sensor, Probe Length
Probe: 4 to 24" (101.6 to 609.6 mm)
Sensor, Probe Material
Probe: 316 Stainless Steel
Probe: 316L Stainless Steel
Size
Finish: 0.8 µm (32 µ") - Maximum
Temperature Range
-20° to 90° C (-4° to 195° F) PVC Wires
-50° to 200° C (-58° to 392° F) Teflon Wires
Tolerance
Element: ± 0.04 % (± 0.1° C) at 0° C, Class AA
Element: ± 0.06 % (± 0.15° C) at 0° C, Class A
Element: ± 0.12 % (± 0.3° C) at 0° C, Class B