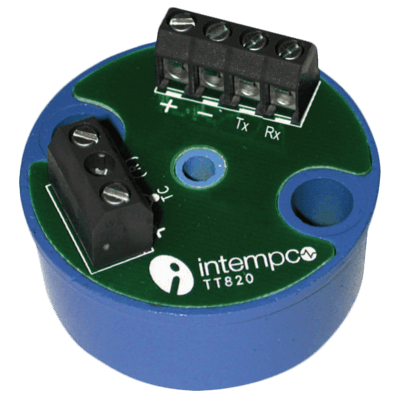 Images are representations only.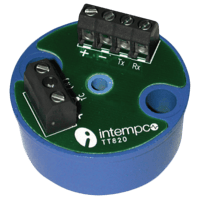 The TT820 is a low cost microprocessor-based 2-wire DIN rail-mounting transmitter.

The TT820 features a one point calibration adjustment with two push buttons as well as an advanced software programming via the RS-232 input.

The advanced programming allows two points calibration, re-scaling, filtering options and identification of the transmitter.

TT820 is designed for highest reliability and excellent industrial performance. Automatic cold junction compensation and a low-drift input amplifier maintain accuracy under varying ambient conditions.
Features
Microprocessor-based design
Linearized output to temperature
2-wire loop-powered 4-20 mA output
Input T/C with cold junction compensation
Factory calibrated
Re-programmable via PC
Metal housing
Fits standard heads
Specifications
Accuracy
0.5 % of Full Scale (Includes Effects of Linearity, Hysteresis & Repeatability)
J Thermocouple Cold Junction Error: ± 2° C ( ± 3.6° F) - Maximum
K Thermocouple Cold Junction Error: ± 1° C ( ± 1.8° F) - Maximum
T, E Thermocouple Cold Junction Error: ± 3° C ( ± 5.4° F) - Maximum
Operating Temperature
-40° to 80° C (-40° to 176° F)
Power Supply
12-32 Vdc, Polarity Protected
Resistance
Sensor Lead Resistance: 10 kiloohms, Maximum
Sensor, Probe Type
E Thermocouple
J Thermocouple
K Thermocouple
T Thermocouple
Storage Temperature
-40° to 80° C (-40° to 176° F)
Temperature Range
-50° to 1,200° C (-58° to 2,192° F)
Thermal Drift
Span & Zero (Including Cold Junction Drift): ± 0.01 % of Full Scale/°C