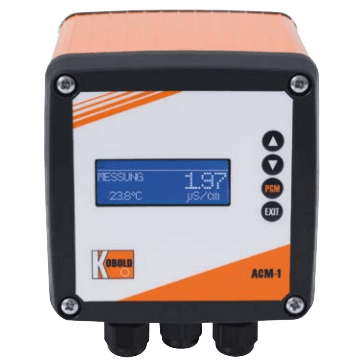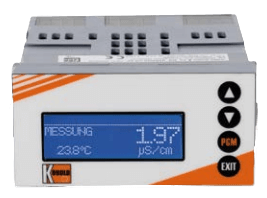 Images are representations only.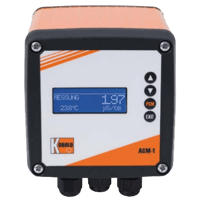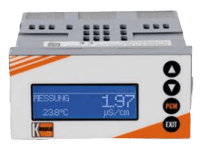 The compact KOBOLD transmitter / controller ACM-1 measures the conductivity value, TDS value or specific resistance. It is avail- able as panel-mounted device according to DIN/EN 61554 or as field housing.

Measured values and parameters are displayed on a high-contrast graphic display in plain text. Easy configuration via buttons or PC with optional software provide a simple and user friendly operation.

An integrated math and logic module enables the integration of the measured values in mathematical formulas so that the measured variables can be displayed. The transmitter has two Analog and two binary inputs.
Specifications
Accuracy
± 5 ohms
≤ 0.05 % (Resistance ± 4 ohms) - Optional Board Standard Signal
≤ 0.25 % of Measuring Range - Temperature Pt100/Pt1000
≤ 0.5 % - Optional Board Analog Output
≤ 0.6 % of Measuring Range + 0.3 µS × Cell Constant (K) - Conductivity Value
≤ 1.5 % of Measuring Range - Temperature NTC/PTC
0.25 % of Measuring Range - Standard Signal
Ambient Temperature Range
-5° to 50° C (23° to 122° F) - Field Housing
-5° to 55° C (23° to 131° F) - Panel Mounting
Circuit Protection
Varistor - Optional Board Semiconductor Relay TRIAC
Communication
Baud Rate: 9,600, 19,200, 38,400 bit/sec (RS-422/485)
Modbus
PROFIBUS DP
RS-422, RS-485
Display
122 × 32 Pixel LCD Graphic Display (Blue with Backlight)
Electrical Connectors
14 AWG (2.5 mm²)
Screw Terminal - Rear
Electrical Contacts
Changeover Contact - Optional Board 1 Relay
Electrical Rating
1 A at 240 Vac Resistive - Optional Board Semiconductor Relay TRIAC (Output)
3 A at 240 Vac Resistive - Optional Board Double Relay (Output)
5 A at 240 Vac Resistive Load - Optional Board 2 Relay (Output)
8 A at 240 Vac Resistive - Optional Board 1 Relay (Output)
U ≤ 50 Vac/Vdc - Optional Board 2 Semiconductor Relay Photo-MOS
Enclosure, Body Material
Aluminum
Plastic - for Panel Mounting According to DIN IEC 61554
Environmental Protection
IP20 - Rear
IP65 - Front & Field Housing
Humidity
≤ 90 % Relative Humidity Annual Mean, Non-Condensing
Input
0-10 V - Standard Signal Measuring Control Range
0-20 mA - Standard Signal Measuring Control Range
4-20 mA - Standard Signal Measuring Control Range
PTC/NTC 0.1 to 30 kiloohms - Measuring & Control Range
Load Impedance
≤ 500 ohms - Optional Board Analog Output
Output
± 5 Vdc, 5 mA - Optional Boards Supply ISFET
0(2)-10 V - Optional Board Analog Output
0(4)-20 mA - Optional Board Analog Output
12 Vdc, 10 mA - Optional Boards Supply Proximity Switch
2 Relay (Changeover Contact)
Power Requirement
110-240 Vac
-15 / +10 %, 48 to 63 Hz - Standard
20-30 Vac/Vdc, 48 to 63 Hz - Special
Sensor / Probe Connection
Storage Temperature
-30° to 70° C (-22° to 158° F)
Supply Voltage
± 5 Vdc - Sensor
12 Vdc - Sensor
17 Vdc at 20 mA - Sensor
Approximately 25 Vdc - Open-Circuit Voltage
Temperature Effect
0.1 %/10 K - Resistance Transmitter
0.2 %/10 K
100 ppm/K - Optional Board Standard Signal
Temperature Range
-50° to 250° C (-58° to 482° F)