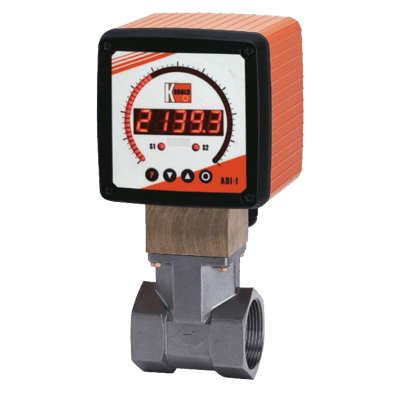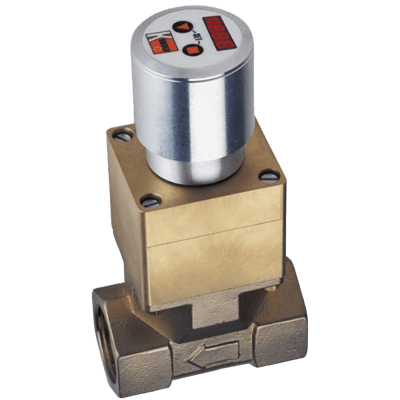 Images are representations only.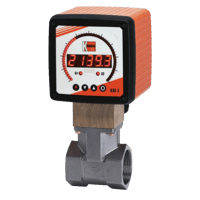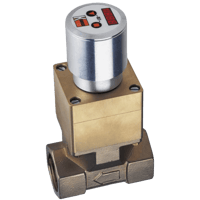 The patented KOBOLD torsional paddle flow meter type DPT operates according to the diaphragm plate principle. For the first time, a flat torsion spring simultaneously acts as a mount for the paddle and as an elastic force.

The device thus operates with almost no wear. The paddle comprises a diaphragm plate and a lever arm. When the diaphragm plate is moved by the flow in the flow direction, the lever arm is deflected by the force of the leaf spring.

This angular motion is transferred non-contacting through the casing wall by a magnet to a Hall-effect sensor with no losses. Different measuring ranges and instrument sizes are realized with the geometry of the lever arm, the diameter and shape of the diaphragm plate as well as the height and thickness of the leaf spring.

Calibration nozzles can also be press-fitted to adapt the measuring ranges. The signal from the Hall-effect sensor is displayed by different electronic means and serves to monitor the volume flow.
Specifications
Ambient Temperature Range
Applications
Chemical & Pharmaceutical
Drinks & Semi-Luxury Food Industry
Heavy Goods Industry
Mechanical Engineering & Capital Equipment
BSP Connection
G 1" Female
G 1/2" Female
G 1-1/2" Female
G 2" Female
G 3" Female
G 3/4" Female
G 3/8" Female
Electrical Contacts
2 Normally Closed Contacts
2 Normally Open Contacts
Flow Rate
5 to 30 LPM to Water
850 to 1900 LPM to Water
Materials of Construction
Calibration Nozzles: 316Ti Stainless Steel
Nominal Pressure
psi: 40 (kPa: 276, bar: 2.76)
NPT Connection
1" NPT Female
1/2" NPT Female
1-1/2" NPT Female
2" NPT Female
3" NPT Female
3/4" NPT Female
3/8" NPT Female
Output
0-10 Vdc
30 Vdc / 5 A
4-20 mA
5 A Resistive Load
500 ohms Minimum
Maximum
Output Format
PNP or NPN Semiconductor
Relay/Changeover Contact
Seat / Seal Material
Brass Version: NBR
Stainless Steel Version: FPM
Spring Material
Paddle, Spring Strip: 316Ti Stainless Steel
Supply Voltage
100-240 Vac ± 10 %
10-40 Vdc
18-30 Vac
24 Vdc ± 20 %
3-Wire Technology, Approximately 100 mA