Images are representations only.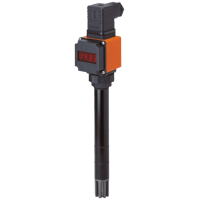 The KOBOLD AFA-G humidity sensors are suited for measuring relative humidity in air and in other non-aggressive gases. The sensors are based on capacitive metrology which is reasonably-priced, maintenance-free and highly accurate.

Capacitive humidity sensor elements form the basis of these sensors. An electrode system, a moisture-sensitive polymer layer and a gold layer that is permeable to vapour are situated on a small thin glass or ceramic substrate.

Since the hygroscopic polymer layer can absorb water molecules that alter its dielectric constant, this layered system acts as a moisture-dependant capacitor, whose capacitance is a measure of the surrounding relative humidity.

The change in capacitance is converted to an electrical output signal by electronics normally mounted on the humidity sensor element. Both parts form a capacitive humidity sensor that can be adjusted using humidity references. Accuracy is approximately ±2%.

Besides providing the output signal of 4 to 20 mA, the measuring instrument allows the measured value to be read off a red LED display at the measuring point. The display is supplied from the 4 to 20 mA signal current and thus requires no additional power supply.

The measuring instruments are also available with a programmable switching output. Sensors from the range are delivered with an Aluminum sensor unit and a gauze filter. The connection is made with a right-angle plug according to DIN 43650.
Specifications
Accuracy
± 2 % Relative Humidity (For Range 5 to 95 % Relative Humidity & 10° to 40° C)
Ambient Temperature Range
-40° to 80° C (-40° to 176° F)
Applications
Bakery Technology
Greenhouses
Monitoring & Control of Air Conditioning Systems, Drying Plant, Humidifiers & Dehumidifiers
Research & Development
Ripening Warehouses for Food
Humidity
0 to 100 % Relative Humidity - Measuring Range
Output Load
650 ohms at 24 Vdc - Maximum
Storage Temperature
-40° to 80° C (-40° to 176° F)
Switch Type
Transistor - Limit Contact Optional (Open Collector)