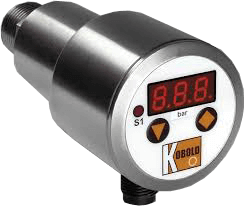 Images are representations only.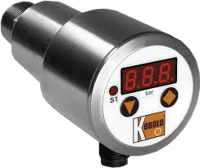 KOBOLD pressure sensors/switches series PDD are cost effective electronic pressure switches with digital indication of actual pressure. Two switch points, on-/off-switch delay and hysteresis are programmable within the measuring range.

A piezo resistive ceramic sensor is used.

The units can be used where high switching accuracy is needed. Long term stability, repeatability and the compact and robust design make them ideal for use in OEM applications.
Specifications
Accuracy
± 0.5 % of Full Scale
± 1.0 % of Full Scale
Ambient Temperature Range
-20° to 80° C (-4° to 176° F)
Applications
Compressors
Infusion Pumps
Installations
Machinery Industry
Circuit Protection
Short Circuit Protection: 300 mA - Maximum
Enclosure / Body Material
NPT Connection
1/2" NPT Male
1/4" NPT Male
Process Temperature
-20° to 60° C (-4° to 140° F)
Proof Pressure
5800 psi: 1.5 × Range
From 1450 psi: 2 × Range
Up to 870 psi: 3× Range
Resolution
psig: 0.14 (bar: 0.01, kPa: 1)
Response Time
± 0.5 % of Full Scale (± 1.0 % of Full Scale for Measuring Range of ≤ 1.6 bar)
Sensor / Probe Type
Piezoresistive Ceramic Cell
Set Point - Decreasing
bar: 0 to 399.9
Inches Hg: -30 to 0
kPa: 0 to 39,990
psi: 0 to 5800
Set Point - Increasing
bar: 0 to 399.9
Inches Hg: -30 to 0
kPa: 0 to 39,990
psi: 0 to 5,800
System Pressure
bar: 0 to 400
Inches Hg: -30 to 0
kPa: 0 to 39,990
psi: 0 to 5,800