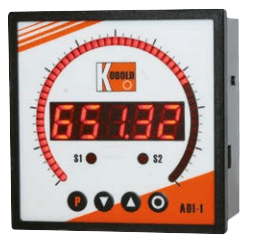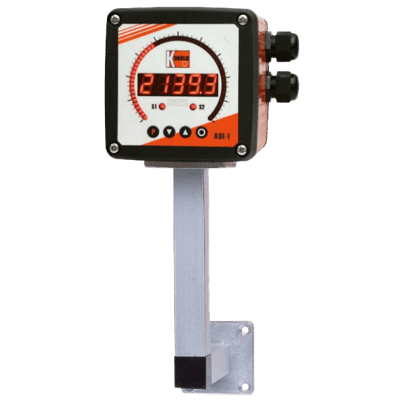 Images are representations only.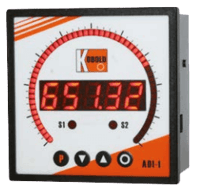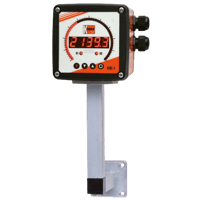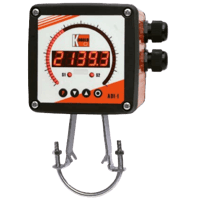 The KOBOLD ADI-1 indication unit is used for displaying and processing of process values. Frequencies or standard current/voltage signals may be processed as input signals. Most output signals from transducers can thus be displayed.

The indication is displayed via a 5 digit display and a 55 point bar graph.

All internal process parameters in different configurations can thus be displayed. All programming is done with 4 front buttons in three different programming modes. 4 internal alarm parameters can be freely assigned to the 2 limit switches, on the optional Analog output, or on the display elements.

Using the corresponding totaliser and alarm correlation basic dosing functions can be realised. Various alarm and control functions can be triggered by the digital control input or by pressing a button.
Features
Panel mounting and field housing
Bar graph and digital display
User scaling
2 limit values
Min/max memory
Protection IP65
Simple button programming
Sensor supply
Totaliser 
Specifications
Ambient Temperature Range
-20° to 80° C (-4° to 176° F)
Display
5-Digits, 14 mm High
Display Range: -19,999 to 19,999
Display Time: 0.1 to 10 seconds, Programmable
LED Display
Frequency
0.01 Hz to 99,999 kHz - Input
Input
-12-12 Vdc at Ri = Approximately 200 kiloohms - Measurement
1-24 mA DC at Ri = Approximately 100 ohms - Measurement
-22-24 mA DC at Ri = Approximately 100 ohms - Measurement
Measuring Error
± 0.1 %
± 1-Digit - Normal/Frequency Signal
0.05%
Output
0 -10 Vdc (Load > 10 kiloohms)
0-20 mA (Load < 360 kiloohms)
4-20 mA (Load < 360 kiloohms)
Relay Output
2 Changeover Contacts
30 Vdc / 5 A
Maximum
Sensor Input
12 Vdc ± 5 %, Maximum
24 Vdc ± 10 %, Maximum
5 Vdc ± 5 %, Maximum
Storage Temperature
-20° to 80° C (-4° to 176° F)
Supply Voltage
100-240 Vac ± 10 %
10-40 Vdc, 15 W
18-30 Vac