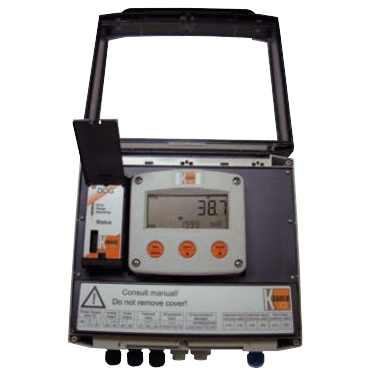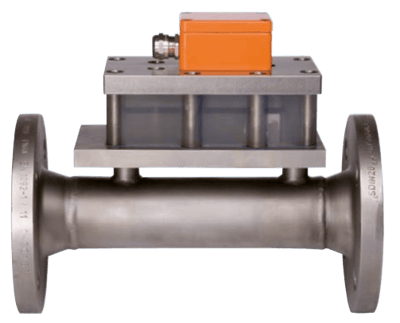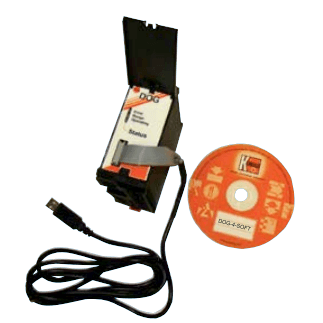 Images are representations only.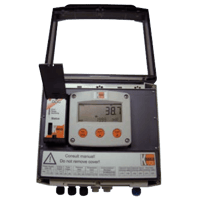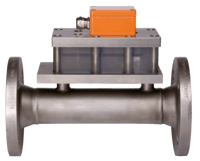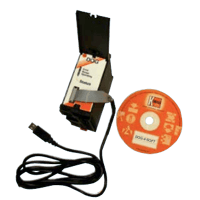 The KOBOLD flowmeter DOG-4 is used for flow measurement of gases. The medium flows through an orifice in a tube. Bypass bores are located at the sides. The dynamic pressure at the orifice causes part of the gas volumetric flow to flow into the bypass.

The division ratio remains constant over the whole measuring range. The bypass channel contains the Oscillator – the Measuring cell itself.

When the gas flows through the measuring cell, a gas column oscillates in a U-shaped channel mounted to the left and right. This oscillation frequency is proportional to the flow velocity and thus to the total volume flow. The oscillation frequency is sensed with a platinum sensor. An electrical alternating signal is generated that is displayed in the series connected electronics.
Specifications
Accuracy
± 1.5 % of Measured Value
± 5 % of Measured Value
Ambient Temperature Range
-25° to 80° C (-13° to 176° F)
Applications
Compressed Air
Gases - Biogas, Fermentation Gas, Nitrogen, Propane, Argon
Hydrogen Storage
Natural Gas
Approvals & Certifications
Display
Alphanumeric LCD
Display with Backlight
Enclosure, Body Material
316 Stainless Steel
316L Stainless Steel
Polyamide
Flange Size - 1" (DN 25)
1" (DN 25) - ANSI Class 150
1" (DN 25) - ANSI Class 300
Flange Size - 1-1/2" (DN 40)
1-1/2" (DN 40) - ANSI Class 150
1-1/2" (DN 40) - ANSI Class 300
Flange Size - 2" (DN 50)
2" (DN 50) - ANSI Class 150
2" (DN 50) - ANSI Class 300
Flange Size - 3" (DN 80)
3" (DN 80) - ANSI Class 150
3" (DN 80) - ANSI Class 300
Flange Size - 4" (DN 100)
4" (DN 100) - ANSI Class 150
4" (DN 100) - ANSI Class 300
Flange Size - 6" (DN 150)
6" (DN 150) - ANSI Class 150
6" (DN 150) - ANSI Class 300
Flange Size - 8" (DN 200)
8" (DN 200) - ANSI Class 150
8" (DN 200) - ANSI Class 300
Flow Rate
0.12-12 to 60-6,000 m³/hour to Air
Materials of Construction
Polyphenylene Sulfide - Measuring Head
Orifice Material
316 Stainless Steel
316L Stainless Steel
Output
0.91 mW/°C - Derating
100 mW at 25° C
12-24 V
24 Vdc, PNP - Pulse Output
30 V, Maximum
4-20 mA - Analog
50 mA - Maximum
PNP Pulse
Power Requirement
110 Vac ± 10 %, 50/60 Hz
230 Vac ± 10 %, 50/60 Hz
24 Vac ± 10 %, 50/60 Hz
24 Vdc ± 20 %, (without ATEX)
Pressure Rating
psi: 145 to 580.2 (kPa: 1,000 to 4,000, bar: 10 to 40)
Process Temperature
-20° to 120° C (-4° to 248° F)